This interview originally ran in The Thrill Begins (see link below for full interview)
Debut Spotlight: Isabella Maldonado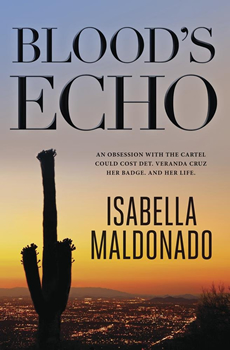 I'm so excited to interview Isabella Maldonado for the Debut Author Spotlight. She's a former police captain, and the only thing more awesome than a badass female character is a badass female in real life. BLOOD'S ECHO is about a police detective who heads up an elite task force, and the authenticity of Maldonado's protagonist is apparent on every page. A fine start to an exciting new series.
Congratulations on BLOOD'S ECHO! Can you tell us a bit about your journey to publication?
My journey is a bit unconventional. After 22 years in law enforcement, I gave up my gun and high-tech boots in favor of a computer. I loved reading crime fiction, but my heart's desire was to write. To learn the art and craft, I joined Sisters in Crime, attended workshops, and pored over countless books on writing. I also wrote three published short stories to try different styles. After four years of serious study, I felt ready for a novel. The next eight months were fascinating, grueling and educational. When I finished my manuscript, I had the opportunity to pitch it to the acquiring editor for Midnight Ink, who was appearing at a conference in Phoenix. Shortly thereafter, I was offered a three-book deal, and my writing career began in earnest! I have now completed Book 2 in the series, which will be published next year.